Open Channel Sluice Gate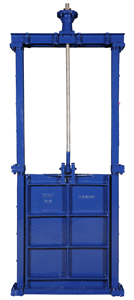 Specification
Gates are made as per Durga design.

Application
Gates are mounted / fixed in between two parallel side walls of an open channel and are used to regulate flow within as well as in and out of an open channel. These are suitable for seating as well as unseating water head but the height of water in both cases should be less than height of shutter.

Material of Construction
Depending on application and requirement, the client may select and specify the material of construction. Generally available in Cast Iron / Stainless Steel Construction & M.S Fabricated.

Shop Testing Parameters
Movement test for checking interference free movement of complete gate assembly. Seat clearance check for checking between mating sealing faces.
Catalogue